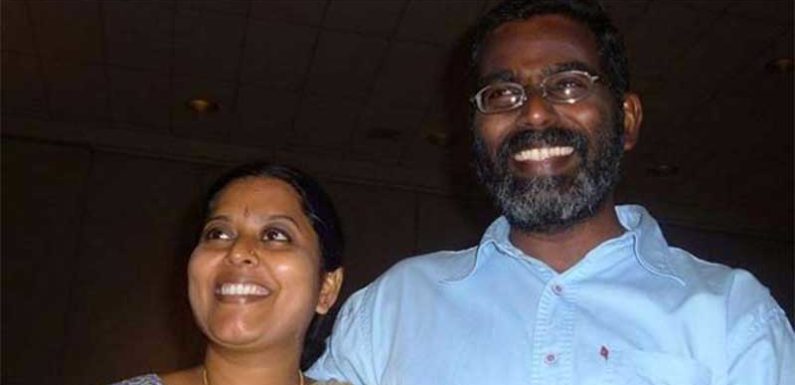 Nagercoil,
December 22, 2018.
Dear friend:
[Our big and beautiful Planet Earth that can be likened to an airplane with limited resources has been literally hijacked by the nuclear state terrorists. I, for one, tend to think and feel that nuclearism is the single largest threat humanity faces today. And hence struggling for a nuclear-free world is a top priority task for us all. Nuclear deals, Uranium mining, nuclear reactors, radioactive waste dumps, atomic bombs and Fascist doomsday arrogance are all sides of the same killer cube.]
Greetings! I apologize for not having been in touch with you for several years now. In fact, there hasn't been much joyous news to share with you. As you may know, I have been engrossed with anti-nuclear struggles ever since Meera, our children and I came back to India for good in early 2001.
Meera and I started a primary school in 2003 (which has grown into a high school now) for rural children in a village just outside our hometown near the southernmost tip of Tamil Nadu, India. At the same time, my friends and I were organizing the people of southern districts of Tamil Nadu against the Koodankulam Nuclear Power Project (KKNPP), a Russian nuclear facility at Koodankulam. We also organized all those groups opposing Uranium mining, nuclear reactors and nuclear weaponization across India and created the National Alliance of Anti-nuclear Movements (NAAM) in 2009.
The anti-KKNPP struggle got so intense that I had to take refuge in a coastal village called Idinthakarai for two and a half years and led the struggle with tens of thousands of fisherfolks, farmers, women and youth. Our struggle was described as the longest and largest non-violent struggle after India's national fight for independence.
The Indian State that has been signing indiscriminate agreements with Russia, US, Japan, France, Australia, South Korea, Kazakhstan, Namibia etc. does not take our genuine and valiant struggle lightly. They call us anti-national, seditious, radical leftists, secessionists, foreign-stooges, foreign-funded etc. They have foisted roughly 380 cases on us including 20 sedition cases and 20 'waging war on the State' cases that carry death penalty as possible punishment if convicted.
The central government sent a team from Delhi to raid my home, checked my financial transactions repeatedly, and froze all my bank accounts along with Meera's and the account of the SACCER Trust that manages our little school. The authorities have also impounded my passport and issued a 'look out' notice to all the ports and airports in the country.
As a result, Meera has been forced to provide for the family from the meager income she gets from the school and the agricultural lands. Ever since I left Idinthakarai village, I contested in the 2014 Parliament election as an Aam Aadmi Party (AAP) candidate and in the 2016 state assembly election as an independent candidate. I lost both of them rather badly due to lack of money, men, material and electoral experience.
In 2016 some of my friends and I founded a Green Party (Pachai Tamizhagam Katchi) and carrying out political activities in Tamil Nadu. I attend various political campaigns and environmental struggles of all different groups all over India.
I have filed court cases to get my passport back, to have all our cases heard in a special court, and am in the process of filing another case to get my accounts defrozen.
Meera has just undergone a hysterectomy surgery recently and is recuperating well now. Our older son is studying computer science and the younger one is studying mechanical engineering in good colleges. Both my parents are in their early 80's and are living with us. Unfortunately, Meera's mother passed away in 2016 and her father lives a little away in our hometown.
We hope you and your family and friends have been keeping good health and leading a productive life. We look forward to seeing you or hearing from you sometime in 2019.
Wishing you, your family and friends a wonderful holiday season and a new year filled with peace, beauty and joy!
With lots of love and regards,
S. P. Udayakumar and Meera Udayakumar