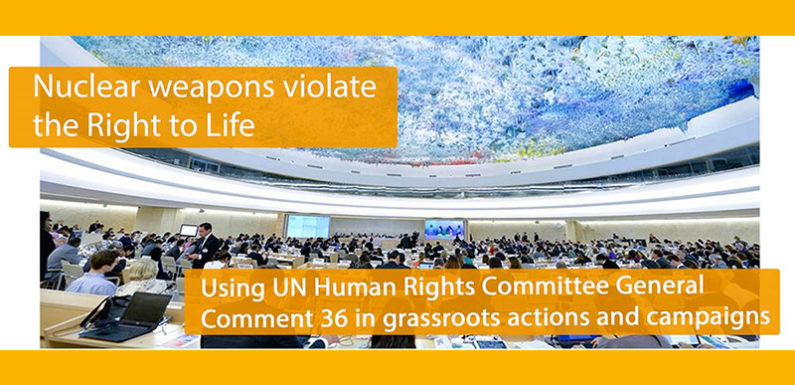 Dear friends and colleagues,

On October 24, 2018, the UN Human Rights Committee adopted General Comment 36 on the Right to Life, affirming, amongst other things, that the threat or use of nuclear weapons 'is incompatible with respect for the Right to Life and may amount to a crime under international law.'

General Comment 36 also held that States Parties to the International Covenant on Civil and Political Rights (ICCPR) have an obligation to end the production of weapons of mass destruction, destroy existing stockpiles and provide adequate reparation to victims of their testing or use.

The significance of this development is that it:
applies directly to the nuclear-armed States all of whom are States Parties of the ICCPR (except China which has signed but not yet ratified the Covenant);
clearly and comprehensively affirms the illegality of the threat or use of nuclear weapons;
applies personal responsibility (criminality) to nuclear weapons policies;
applies human rights law and engages human rights constituencies.
'Reflecting the times, the 1984 General Comment is a clarion call to recognize and eliminate the incredible dangers posed by nuclear weapons. Building on legal developments since 1984, the 2018 General Comment is a sober legal assessment, beginning with the unambiguous statement that the threat or use of nuclear weapons is incompatible with the right to life.'
– Dr John Burroughs, Director, UN Office of the International Association of Lawyers Against Nuclear Arms
Ways to use General Comment 36
In light of this historic development, the Abolition 2000 working group on Nuclear Weapons and International Law has posted a blog and published a flyer on Using UN Human Rights Committee General Comment 36 to support nuclear abolition actions and campaigns.
These give ideas on how civil society campaigners can use General Comment 36 in nuclear disarmament appeals and statements, and in actions highlighting individual responsibility and criminal liability of those involved in the nuclear weapons chain of command or deployment.
The flyer also lists a number of UN Human Rights bodies in which campaigners can now raise nuclear weapons issues, especially to challenge the representatives of the nuclear-armed States to report on progress they are making on prohibition of nuclear weapons in order to protect and implement the Right to Life.
Engaging in UN Human Rights Forums
The bridge between arms control and human rights should now be used by civil society in its efforts against nuclear weapons before the Human Rights Committee. The Human Rights Committee, however, is only one UN body dealing with human rights within a large machinery covering very different rights and areas. NGOs fighting for a world without nuclear weapons and the rights of victims of those weapons should now use other fora, e.g. those dealing with rights of women, children or indigenous peoples, all particularly vulnerable to nuclear weapons, in order to make their voices heard.
– Dr Daniel Rietiker, President of the Association of Swiss Lawyers for Nuclear Disarmament